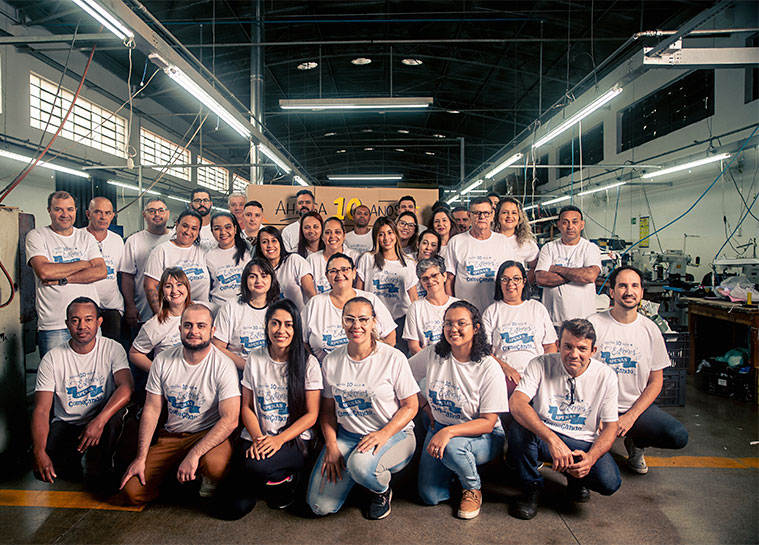 Nice to meet you,
we are Ahimsa!
Questioning everything has been a part of our journey for a long time now. After all, it's inevitable to come across veganism when we start asking ourselves the "why" of things, isn't it? For Ahimsa (a Sanskrit word meaning "do no harm"), which was born vegan in 2013, questioning is natural. Just as natural as having respect for animals, humans, and planet Earth as the starting point for any choice we make.
As is customary in veganism, we prioritize conscious consumption of any and all products we use, not just the shoes on our feet, the wallet in our pocket, the backpack on our back, or the food on our plate!
Here at Ahimsa, we understand that in order to thrive as a society and to rebalance the ecosystem of which we are a part, it is urgent to rethink our consumption and pay attention to the entire production chain of various goods.
How was that clothing on sale on the internet produced and delivered to you? And that smartphone you've been dreaming of, was it manufactured by workers in decent conditions? Did the beautiful shoe in the display window require the sacrifice of an animal to be made? Did you use ethanol, gasoline, diesel, or a bicycle to move around today?
It's not just about the meat on your plate, as that relative often comments at family gatherings, usually confusing vegetarians with vegans and vice versa. Of course, not eating meat is a fundamental aspect of veganism, but if not everyone is willing to change their eating habits, why not join those who are already prepared to question their consumption habits?
"We can no longer just focus on our bubble. To create change in the context, we have to go beyond our circle."
This is how we believe it's possible to make profound changes in society and in the fashion industry. By questioning, debating, listening, uniting differences, fostering empathy, and generating transformations that might seem small to the world or like environmentalists' fantasies, but are actually significant changes for each of us and for our community now - and in the future.
When we started, we were the world's first 100% vegan footwear factory, and currently, we occupy a 1300 m² space in the Industrial District of Franca (SP), a city internationally recognized for its leather shoes and goods. Ironic, isn't it? But it's by occupying these spaces and, necessarily, markets that we believe it's possible to expand the reach of the vegan philosophy in the industry.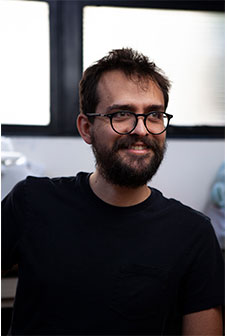 "We try to be as transparent as possible, sharing materials with competitors and even opening our industry for these competitors, for theirs products to be made here, by us, because we believe in the evolution of our mission."
Gabriel, Founder and Director at Ahimsa
And it's no coincidence that today we're no longer the only ones trying to change the course of this market! The fashion industry is among the top five most polluting industries in the world, responsible for alarming water consumption and guided by a linear consumption logic: extract resources, produce goods, and dispose of waste.
Buy, use, throw away, and buy again. This unsustainable economy exploits not only animals and finite natural resources. In the fashion industry, 93% of brands do not pay a wage sufficient to cover workers' basic living costs, and often do not provide dignified and healthy working conditions.
These reasons are why more and more companies are joining us and seeking to apply the principles that Ahimsa embodies in its DNA: fair and sustainable trade, with decent wages combined with good conditions and practices in the workplace; special attention to gender equality and female empowerment; as well as respect for workers' rights, animal rights, and ecosystem preservation.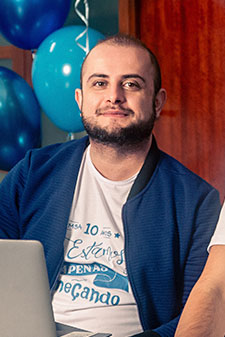 "There's a more modern mindset, in the sense of leading differently. Opinions are very important here, you feel completely comfortable to voice what's happening."
Mateus, Customer Support at Ahimsa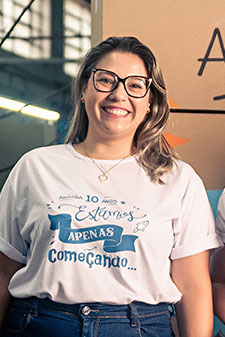 "In the eight years I've been with the company, I've never felt inferior for being a woman. We have many women on the team, in all processes. More in administration, but there are also many in production."
Aline, Manager at Ahimsa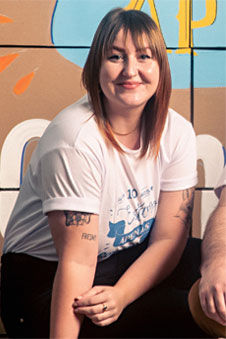 "Women have always been in leadership roles at Ahimsa, it has always been at the core of the company. I find this very empowering because we, as women, feel more at ease."
Ana, marketing at Ahimsa
The search for materials that do not exploit animals and cause the least possible environmental impact, with a low carbon footprint, is also a "new frontier" for the fashion industry. But here, we have already tested, studied, approved, and rejected many materials over these 10 years of work until we found the current Future Leather used by us.
Being the primary material of almost all our products, this material, which has seen increasing recycling rates over the years, is nothing more than a layer of polyurethane (PU) over a thin microfiber layer. In addition to providing greater durability, resistance, and comfort to our products, the Future Leather can also be easily mistaken for animal leather, which brings non-vegan consumers closer to our philosophy.
"Not 100% of our audience is vegan, and that's also the cool part, we sort of broke the bubble."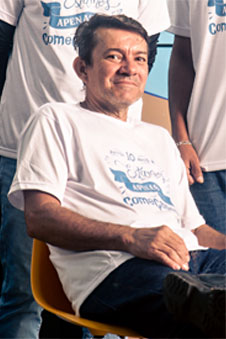 "Today, many people confuse synthetic leather with animal leather. If you don't have a good understanding of materials, you can easily mistake them."
Carlos, Production at Ahimsa
"It's very simple:
the most sustainable product is the one that lasts."
"And the process doesn't end with the Ahimsa product arriving at your home. In addition to personalized and human service during and after purchase, which includes Simplified Exchanges and easy problem resolutions, we want to bring your old and unused shoes back to the factory!"
"Customers can't be kept waiting here. Our customer service is quite different, there's no sending an email and waiting 2 or 3 days for a response. Our average response time is 4 hours."
In an effort to close the lifecycle of our footwear, we created (RE)cycle (Currently not available outside of Brazil). With this circular economy initiative, we reuse that shoe you consider no longer useful, repurposing the existing or previously processed materials in our upcoming products, thus generating a smaller environmental impact.
In this way, we ensure that your Ahimsa is properly disposed of, preventing it from ending up in a landfill, river, or sea.
"The levels of quality, sustainability, and ecological footprint that we have achieved are very good for the point in which we are in human evolution. It is more important for us to be able to get more people to consume what we already have, than for us to be in a frenzied search for other things."
But you must be wondering: where did this idea of a vegan shoe come from?
It was Gabriel Silva's doing, the creator of Ahimsa. But it all started innocently, when Gabriel, with the intention of taking care of his health, adopted a vegetarian diet one and a half years after a diagnosis of type I diabetes that would prevent him from pursuing a career as a pilot.
Even before he adopted the vegan diet, Gabriel sympathized with the cause and began to apply the principles of veganism when buying items such as wallets, shoes, and belts. It was then that he realized the difficulty in finding interesting and good quality vegan products. The solution? To create and produce his own line of vegan shoes!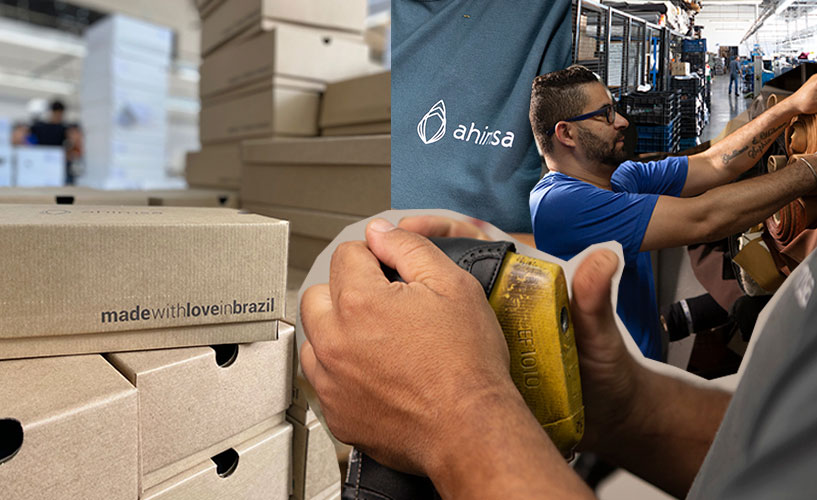 "I could have a more homogeneous production line, easier to manage, with a smaller diversity of products and producing twice as much as we do daily, but that goes a little against our purpose, which is to be a brand that embraces different styles, different tastes, different products."
Today, he has the help of more than 40 people in the factory to lead this project and produce 200 pairs of shoes daily that will carry the message of non-cruelty and socio-environmental responsibility to countries like Australia, Germany, France, Canada, the USA, and others; in addition, of course, to all regions of Brazil. There are various styles and models, from sneakers and sandals to boots and accessories. No matter what your style, you will find a vegan option on our website!
Contrary to the footwear industry, which is driven by scale and the rampant consumption of leather goods, Ahimsa has bet on the valorization of the professionals involved in production, on better social and environmental practices, and on ensuring the origin of all raw materials used in its products, guaranteeing that there is no animal exploitation at any stage of the process.
"An employee who knows that the company is concerned with the quality of a shoe is more motivated to do a good job than an employee who knows that quantity is more important."
Back in 2013, when it all began, Ahimsa had to prove every day that it was possible to produce quality footwear without harming any animals. Today the world is different; the pandemic has significantly altered the consumption habits of the global population, and the sustainable production of any goods is now seen as paramount.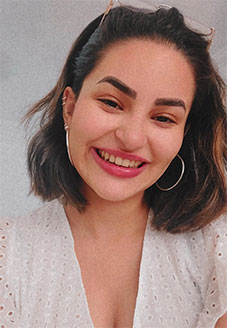 "In 2022, we broke records in terms of items sold, revenue, new customers... So, all of this demonstrates growth. But we still perceive that it's an unfamiliar niche, that people don't care as much, or aren't aware that they should be so concerned about the material they're using on their feet, or for an accessory or a belt. There's still a long way to go to convince people that it makes sense to buy a product made from alternative materials and also to introduce these alternative materials to more people."
Júlia, Performance Analyst at Ahimsa
And here we are, and we will continue to be here! Redirecting industrial production towards a new era of conscious consumption, with lower environmental impact and greater social impact, one that doesn't require the sacrifice of animals and certainly not of style, quality, comfort, or excessive costs.
"In the beginning, we wanted to prove that it was possible, and today we no longer need to demonstrate that it works. It's a matter of finding the consumer and educating them about the values we provide with our products."
We were born to make a difference in the lives of animals, nature, and all of us, bringing awareness to our daily actions and clothing people with what they believe in!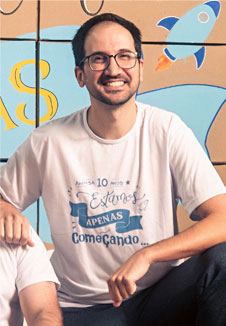 "I eat meat, but the company really changed my worldview. I began to understand the perspective of 'them,' the vegans, what they stand for, and why. People need to start doing something to try to change the way things happen in the world."
Diego, Systems Developer at Ahimsa
This is our way of acting to, perhaps, one day live in a sustainable and cruelty-free world: questioning habits and inspiring conscious changes, always with great respect for others - whether they're animals or people!
Come walk with us for the next 10 years, because we're just getting started!